Home
›
News and Info
›
How to select the correct air valve for water transfer pipelines.
How to select the correct air valve for water transfer pipelines.
---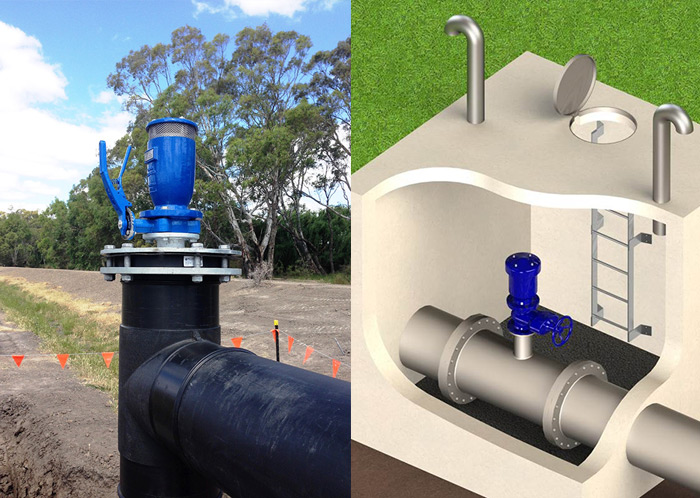 The issue
Air valves are rarely selected for pipelines as a result of airflow calculations.
Using the incorrect air valve for a water transfer pipeline can significantly impact upon the performance characteristics of the line, as well as the efficiency of the transfer.
The solution
Calculate your air flow requirements first, then select an air valve model that meets them.
Although we recommend accurately calculating your air flow requirements before selecting a product, there are several "rule of thumb" techniques that can assist you in selecting the appropriate valve size. As a quick, general guide, refer to this handy table:
| | | |
| --- | --- | --- |
| Up to Pipe diameter | Fox-RFP (full port) | Lynx-RFP (reduced port) |
| DN200 | C-1-ARC-RFP (DN25) | C-2R-ARC-RFP (DN50) |
| DN300 | C-2-ARC-RFP (DN50) | C-3R-ARC-RFP (DN80) |
| DN450 | C-3-ARC-RFP (DN80) | C-4R-ARC-RFP (DN100) |
| DN600 | C-4-ARC-RFP (DN100) | C-6R-ARC-RFP (DN150) |
| DN900 | C-6-ARC-RFP (DN150) | C-8R-ARC-RFP (DN200) |
| DN1200 | C-8-ARC-RFP (DN200) | C-10R-ARC-RFP (DN250) |
Tips and tricks
To most accurately select a suitable product, you should be aware of the following:
The pipeline material, working pressure and ID
The pipeline profile, showing CH and RL values with the pipe diameters and class of pipeline
Scour valve diameters
Locations of main line isolation valves or pumping stations
Transfer flow rates and pressures in a hydraulic grade line profile
Water type being transferred (eg drinking water, dam water, raw river water, treated water, effluent etc)
For further information, data sheets, manuals or CAD drawings, visit our product page.
Disclaimer
We live to provide unbeatable water management solutions and could talk to you for hours about them, but we also understand that every situation is different. We expect that you may need to do your own research and due diligence before selecting one of our products. Please do not use the information we provide about these products as formal engineering advice. This information is created solely to help you make the decision that's right for you. If you have any questions, just ask us. We're here to help.